This weekend we had a lot going on! Friday night we went to my parents for dinner and then joined a group of friends at Wankers for one of my best friend's birthday!

The Birthday Girl and Myself.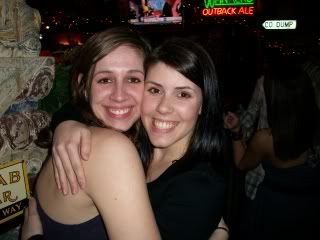 Myself and 3 of my best girlfriends.

My very best girl friend Bri. We've been best friends since we were 5.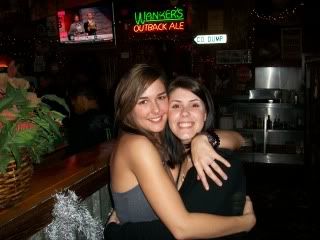 Mr. Vid and Myself.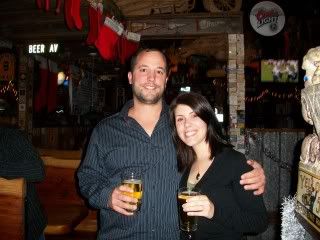 Bri and her boyfriend Jake.

We had planned on going downtown after Wankers and all of us did, except the birthday girl. She had a little too much fun at Wankers and was not allowed into any of the bars downtown. This shortened our night quite a bit.

Saturday Morning Mr. Vid had to work for a couple of hours.. When he got home we got up around and then headed over to my parents house for Christmas with my Mom's Mom and Step-dad. Only one of my Mom's 3 siblings were able to make it this year but a couple of my cousins were there. We enjoyed each others company and had some great food. My Grandpa makes jewlery. Really awesome jewelery. He makes quite a bit of things out of turqouise and other really neat stones. This year he made all of the little ones something. He did this often when my sister, cousins, and I were little. This year there were only 4 little kids. My niece and nephew and my cousins 2 kids. For my niece he made a necklace and mathing earings. For the boys he made belt buckles. I wish I had pictures of these because they're amazing.

Saturday evening Mr. Vid and I met up with who we believe will be our wedding photographer (loved her!!). On our way home we went to Gustav's and had fondue and a beer. This hit the spot. Then we came home to cuddle up and watch Chevy Chase's Christmas Vacation. Last year the Saturday before Christmas we watched Chevy Chase's Christmas Vacation and we did this year as well. We decided this will be a tradition in our house. The Saturday before Christmas we'll stay in and watch this movie. We love it.

This morning I got up and went to my parents to get my dad. We went Christmas shopping for my mom. Most years my dad sends me out to get all my Mom's gifts. This year I made him come with me and I'm so glad that I did. We really enjoyed our time together.

This afternoon has been one of relaxation. Mr. Vid and I ran out for a quick bite at Olive Garden (we're regulars there) and now we're home watching football.

I hope everyone had a great weekend. I'll be back tomorrow with details on our Photographer.