I love
Taylor's
top 2 Tuesday pick this week.
Your Top 2 Splurges!
Now if you asked Adam he'd say Clothes...
I would have to agree - to an extent.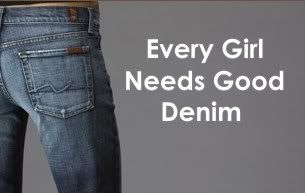 1) Jeans! I spend a decent amount of my money on Jeans! I love jeans. I believe that spending $150 - $200 on jeans is well worth it. I wear on a daily basis Seven's, Citizens, Joe's, Hudson's and Paige Premiums. These jeans are so comfortable and they last forever!
I do however, love Kohl's, Target, Old Navy and, my personal favorite, Nordstrom Rack to find cute tops!
2) Starbucks. I love me some coffee. This is one of my splurges that I hope to change after the wedding. I've registered for a coffee maker! :)
Happy Tuesday!