This weekend Adam went to....
For his brother Andy's bachelor party!
While he was away playing with the boys Bri, Allison and I had plans of our own.. Wedding prep :)
Us girls had plans to meet at my parents house bright and early Saturday morning. I heard the knock at the door and opened it to find the two best girlfriends I could ever ask for holding

one of these with my name on it! :)
Great way to start our Saturday. We then headed downtown from there to check out our local Flower Market... We got down town at about 11 to find that they were closed! They close at 10AM! Can you believe that?! So we decided to go grab lunch while I google searched more wholesale floral in Portland.. I found nothing. We decided to make a day of it and head to Nordstrom Rack for the afternoon.
We all walked out with good buys. Then we all headed to Brianne's house to get ready together to see....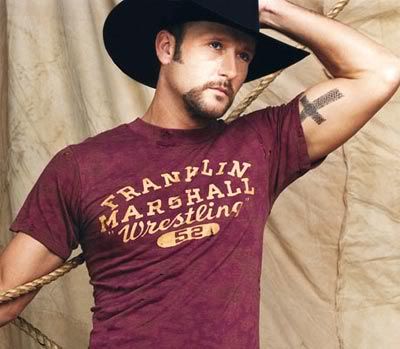 that handsome man in concert!
Love and Theft opened up for Lady Antebellum who opened up for Tim.
After the concert we went to a local bar called Dukes to party a little longer.
We had a great night.
Sunday my mom and I ran to Michael's to find floral tape and then to the store and bought a bouquet of roses.
We made a small bouquet and were pleased with the way it turned out.
So now I am determined to do our own floral for the wedding!
We should save a lot of money by doing this ourselves.
It was super easy too!
Then I relaxed at my parents house until I got to go get Adam from the airport!
We both had great weekends!