Good Morning Ladies!
First of all I'd like to ask those of you who pray to pray today for my cousin Amber's beautiful, sweet daughter Amaya. You can read more about them
here.
Today the state of Florida will make a decision on Amaya's behalf that could be a huge victory for our family. All we want for this baby girl is to be raised by and around people who have loved her since the day she was born. We know that's what her Momma would want too. Today we will find out if that is possible.
If you're not one to pray well wishes are greatly appreciated too!
Now, on to the fun stuff!
I know so many of you are wondering if I found it yesterday.. First I want to tell you about my amazing experience & then I'll answer that question! :)
Tuesday I went to a local Bridal Boutique (If you live in PDX area let me know and I'll tell you the name of it, although, I'm sure you've heard of it!) just to browse and see if they could get me in for an appointment sometime soon. The girls were amazingly sweet - all of them! The OWNER walked me through the shop and showed me all of the different gowns, designers, and styles. She was so sweet!!
I told her why I was in and that I was looking for a new gown. She was really sympathetic and really wanted to know what it was about my gown that I didn't love to ensure that they knew what I wasn't looking for in a gown.
I described one that I had seen but they didn't carry the designer - well she found one that looked very similar the only difference was the neck line.
So, I set up an appointment and went in last night with my mom, SIL Allison, and best friends Brianne & Allison.
I was there about 30 min early because traffic was a breese so my consultant started me early. She was FABULOUS. There wasn't a single dress that she pulled in that I didn't like something about. She totally took what I had told her and found the perfect gown - and it happened to be the FIRST gown I tried on when it was just me and my mom.
Well, the girls got there and we kept trying on other gowns. They all loved several of them but my mom and I kept saying "Ya, I like it but not as much as the first gown.." The girls were like "I want to see the FIRST gown then!!"
I narrowed it down to 3 gowns that I loved and went in backward order from what I considered second runner up, runner up & The ONE!
Well they all loved the second runner up, then they loved the runner up more, then they LOVED THE ONE! Once I put that on they all said "OH my gosh! I totally see why this has been the one to beat!"
I didn't want to take the gown off. I seriously would have left the store wearing it if they would have let me!!
The best part - it was HALF of the NEW budget that the Mr. gave me. The second best part - it was only $125 MORE than the original dress I had purchased. That also kinda frustrates me to know that I bought a beautiful designer gown for $125 more than a DB gown.. BUT it's ok because I have the dress of my dreams now!
I'm so happy and relieved!
Tonight is D & R's going away party! I'm SO sad to see them leave on Monday but I'm also so happy for them. R will be able to play a lot of golf and D is interviewing for an AWESOME job down there! Pray for her too that she gets the position! ;) We will miss them but we also know that they'll be back in the spring for the summer! & at Christmas. Plus we can't complain - we'll have a place to go visit too! :)
We have a busy busy weekend ahead of us! Tomorrow AM the Mr. and his Bro & SIL Allison are coming over at 6, yes, 6AM! for us to leave and head down to Corvallis for some Beaver Believer Football!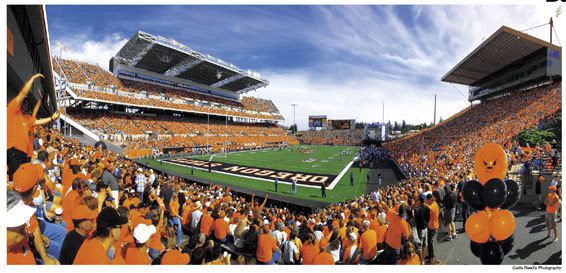 Allison & I apparently do not have to worry about a thing. I am told we get to sit back, relax & drink our coffee w/ baileys while the boys cook! Sounds like a good time to me, right? ;)
Hope you all have a great weekend.