I'm so glad that
Taylor
cheated on this one and selected 4 of her favorite songs because I doubt I could just pick 2.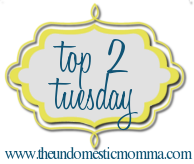 This week's top 2 Tuesday is "Top 2 songs on your iPod"
I have to confess.. None of the songs I'm about to pick are actually on my iPod mainly because I rarely use my iPod but I do plan on adding them to my iTunes soon.
I'm going to pick 4. My top 2 Country & top 2 pop songs right now.
1) Blake Shelton - Who Are You When I'm not Looking
I love this song. I think it's so beautiful & it totally makes me think back to the days before Adam & I lived together when there were so many things that he didn't know about me and that I didn't know about him. I also love Blake Shelton's voice and I think he sings this song beautifully.
If you'd like to watch Blake's official Video of Who are you When I'm not Looking please go here.
2) Miranda Lambert - The House that Built Me
Another beautiful song that I absolutely love! This song totally reminds me of my childhood. So many things happen in your childhood home and everyone has many memories from their childhood home. I can only imagine what it's like to go back to your childhood home and it not belong to your parents anymore. I love Miranda Lambert and am so glad that she did so well at the ACM's. She is such an amazing artist.
Now on to my 2 favorite pop songs.
1) Cee Lo Green - Forget You
This is such a fun song. Every time I hear it I get in the mood to dance and sing along. I love the beat!
2) The Plain White T's - Rhythm of Love
I love this song. Again a fun and upbeat song that you just can't help but sing along to!