My sweet little Sammy,
I am honestly so shocked that today you're 3. It really feels like it was just yesterday that you were born. Have you heard that story? Mommy and Grandma left for the hospital at 11PM, and you know the hospital is about 10 minutes away, at 11:26PM I got a phone call from Grandma and I answered it and said "what did you guys forget?" to which she replied "Nothing! He is HERE!" You wanted to come out and meet all of us so badly that you didn't even give your momma time to get some medicine.
I will never forget the first time I held you. Or the first time you said that you loved me. Or the first time that I walked into Grandma & Grandpa's house and you came running around the corner saying "Hi Nini!!!" and jumped into my arms. All of these moments seem like they happened just yesterday.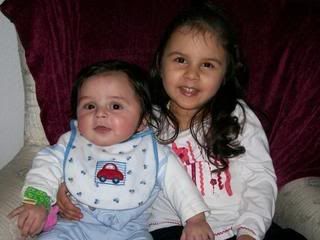 Did you know Sammy that I named you? When we found out you were a boy we all knew your first name would me Samuel - just like your daddy. Your mom and dad couldn't think of a middle name and I said I thought Samuel Lucas was pretty cute and here we are 3 years later with the most beautiful little boy.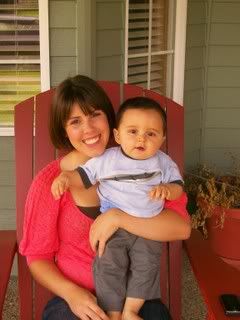 You are now starting to become your own little person. Your sister isn't too fond of this just because you don't always want to do what she wants you to anymore. I think it's pretty great.
You love to play outside.
You even just started swimming lessons! You don't like the water all that much though, after all you are related to your aunt.
You like to pretend that you are a tiger and you have the best little growl I have heard.
Your favorite shows are (in this order) Backyardagains, Diego, and The Wonder Pets.
Your best friend changes daily but most days it's Grandpa, Hollie or me. I love it when you say it's me :)
Your sister loves you so much and I know you love her just as much too. In fact when you get up from naps if you don't see Hollie the first words out of your sweet little mouth are "Where is Hollie?"
Your favorite dinner right now is Spaghetti and Italian sausage but your favorite food is chocolate.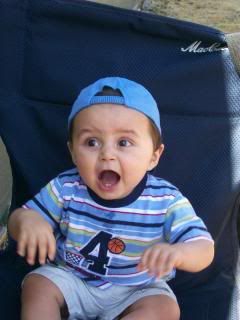 You also really love to go camping.
You are certainly ALL boy!
I used to believe that the difference between boys and girls was the way they were raised. I thought that dad's taught their boys how to make boy noises. I know now that is not true. When you first started making noises at about 1-2 months old you would lay on your back and blow bubbles but the noise you made sounded like a truck engine revving.
At 8 months when you were crawling and playing with cars you would crash them into each other.
In fact your favorite toys are cars, dump trucks, or a ball.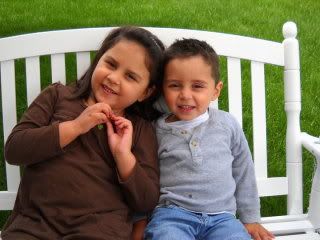 I hope you know how SMART you are.
At one years old you had mastered the shape sorter.
You told your cousin Mason who was putting the green square in the hole that should have had the red triangle "No, Mason, da wed twiangel goes dere"
Your first word was "tickle tickle" I guess that shouldn't surprise me since Hollie's was "Wiggle Wiggle"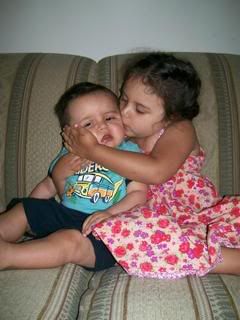 Sammy, I hope you know how much you are loved by all of us.
I hope you know just how special you are.
I hope that in 10 years when you are a teenager you still know how much we all love you.
I hope you enjoy your day at the zoo with mommy, daddy and Hollie today.
I hope that your third year of life is just as great as your first 2 years were.
I love you sweet boy!!