So I mentioned in my last post I have been working hard on our center pieces. I finally found something that I liked. Our original plan was to have our florist fill as many vases as we'd like with flowers for a fee. Well what she failed to mention was that she was only going to use one stem per vase... Bare much? Makes us look like we went way cheap on the floral...? So after seeing an arrangement at one of my BM's house that her mom had picked up at a recent wedding of their friend I decided that was the route I wanted to take.
So over the weekend the Mr. and I went to Michaels and Craft Warehouse to collect flowers, vases, and any other supplies we might need to make a practice center piece. I finished the first one tonight and I have to say I'm pretty pleased...
Here is the start of the process with all of the supplies.
The vase, the floral forms, the flowers, the rocks, and the lingdon berries (In a juice pitcher because my mom threw out the container they came in)
The Floral Form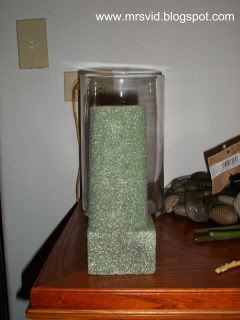 The Floral Form in the Vase before adding the rocks and lingdon berries
The final product!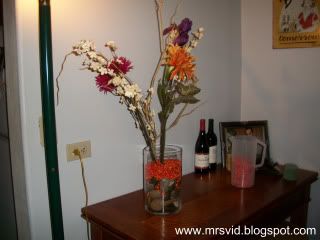 What do you think? We're also going to have eggplant colored satin table runners and candles surrounding this. I'll also probably add a few more flowers to make it a little more full but for the firs round I was pretty pleased! :)
Your thoughts are greatly apprecitaed!
Now, a few pictures from the past few months.
Mr. and I about to go out to dinner.
Mr. and I at his brother's wedding a few weeks ago.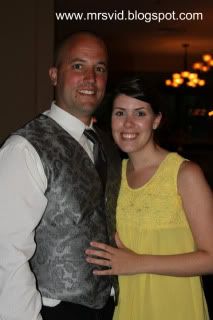 I'm loving the fact that I've figured out how to use picnik.com and am able to
water mark my photo's now! :)

Hope you all have had a happy Monday!